Get the DELL Vostro 3670 System at the best price in Kenya from Kenflix Technologies
Dell Vostro 3670 Overview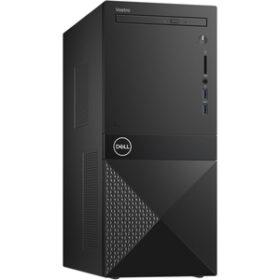 Created for the needs of small businesses, the Vostro 3670 Tower Desktop Computer from Dell delivers enhanced performance with an array of options in an expandable chassis. The system is powered by a 2.8 GHz Intel Core i5-8400 Six-Core processor that will allow you to run multiple applications simultaneously and can be boosted up to 4.0 GHz. The 8GB of 2666 MHz DDR4 RAM, which comes in a 1 x 8GB configuration, helps to ensure smooth multitasking and also allows the computer to quickly access frequently used files and programs. By using a 16GB memory module in each of the 288-pin DIMM slots, the memory can be upgraded to 32GB.
For storage of your files, there is a 256GB NVMe PCIe M.2 SSD, as well as an empty 2.5″/3.5″ bay for SATA drives up to 2TB. If you want to add external storage drives or other peripherals, the Vostro 3670 features two USB 3.1 Gen 1 Type-A ports and four USB 2.0 Type-A ports. The integrated Intel UHD Graphics 630 chipset delivers a sharp, clear picture via the HDMI 1.4 port, which outputs resolutions up to 1920 x 1080 at 60 Hz, or the VGA port, which outputs resolutions up to 2048 x 1536 at 60 Hz. Whether you are listening to music, watching a movie, or playing a game, the integrated Waves MaxxAudio Pro audio controller supports four-channel HD and delivers higher fidelity than standard audio controllers. Other features include an SD card reader, a SuperMulti DVD Burner, Gigabit Ethernet, Wi-Fi 4 (802.11n), and Bluetooth 4.0.
The Vostro 3670 can be further expanded by adding components to its one PCIe 3.0 x16 slot, two PCIe 3.0 x1 slots, and one PCI slot. Included is a USB keyboard, a USB mouse, and a power cord. The installed operating system is Windows 10 Pro (64-bit).
Packed with Power
Blast through your workload quickly and efficiently with a 2.8 GHz Intel Core i5-8400 Six-Core processor and 8GB of 2666 MHz DDR4 memory. With six cores, your performance gets a serious boost and you can do more at once in less time.
Easy Expansion
Save and access presentations, documents, and media on the 256GB NVMe PCIe M.2 SSD. For additional internal storage, add a hard drive up to 2TB to the internal 3.5″/2.5″ bay.
Cool Factor
The mesh design on the front of the system incorporates additional vents for reduced dust, faster cooling, and an overall improvement in performance. Color options vary by region.
Space Saver
With a small footprint, the Vostro tower leaves plenty of desk space open, while keeping ports within easy reach.
Encryption De-Mystified
Enjoy commercial-grade security including TPM 2.0 hardware protection and storage for encryption keys that verify your device as unique and trusted.
Restricted Access
Be assured that unauthorized users aren't accessing your systems thanks to Bitlocker, offering options for multi-factor authentication and system lock-down without the appropriate personal identification number (PIN).
Start Menu
After its hiatus in Windows 8, the Start Menu has returned. Utilizing a combination of the traditional menu system and Windows 8's Live Tiles, the improved Start Menu gives you more information at a glance, showing notification information alongside your applications and other pinned items.
Cortana
Microsoft's digital personal assistant, Cortana can answer your questions with information gleaned from both your device and the internet at large. You can type or even talk with her, if your system has a microphone. Using her Notebook, Cortana keeps track of your needs and wants, and she learns over time to improve her information gathering skills.
Microsoft Edge
After nearly 20 years, Microsoft has finally replaced its Internet Explorer web browser. With Microsoft Edge, users can write directly on web pages and share notes with friends and colleagues. It also improves the online reading experience by adding a distraction-free mode and read-it-later functionality. Edge also has built-in Cortana integration; you can have her help you find a restaurant, make a reservation, and pull up directions without leaving your browser.
Windows Store
For Windows 10, Microsoft has unified the Windows Store. Now, apps for PCs, tablets, and phones will all be accessible from one place. And with support for Universal Apps, one version of an app can work across all your compatible devices automatically.
Windows Continuum
Windows 10 was designed for a variety of screen sizes and input styles, and with its Continuum feature, it automatically adapts to fit your needs. A Windows 10 tablet on its own requires a touch-centric approach, but attaching a mouse and keyboard will shift everything to a more traditional interface. You can even attach an external monitor to your Windows 10 phone for a near-desktop experience. But it's not just the operating system; Windows Universal Apps take advantage of Continuum as well.
Xbox on Windows 10
Gaming is a big focus of Windows 10. Xbox integration allows for PC players to match up against Xbox One players on supported games, and if you have an Xbox One, you can even stream compatible titles to your PC. Native support for recording with the new Game DVR feature makes it easy to capture and share your gameplay. The new DirectX12 takes better advantage of multi-core processors, giving games a performance boost, even on older hardware. Windows 10 also features native support for virtual reality headsets, such as the Oculus Rift.
Additional Windows 10 Pro Features
The Pro version of Windows 10 includes all of the features of Windows 10 Home plus many designed specifically for business users, including Hyper-V virtualization, BitLocker disk encryption, and remote desktop access. Devices will also be able to join domains and the Azure Active Directory, and they can even access a specialized version of the Windows Store featuring custom, company-specific applications.